Rose Wylie
Biography / CV
Rose Wylie (British, born 1934) studied at the Royal College of Art. Wylie represented Great Britain in Women To Watch, National Museum of Women in the Arts, Washington D.C, 2010. Her first retrospective exhibition was held at the Jerwood Gallery, Hastings, 2012, and was followed by her BP Spotlight exhibition at Tate Britain, 2013, which led to museum shows in Philadelphia; Tonsberg, Norway; Städische Galerie, Wolfsberg, Germany; Tal R's Project Space, Copenhagen; and the Douglas Hyde Gallery, Dublin. In 2011, she was given the Paul Hamlyn Award, in 2014, she won the John Moores Painting Prize and in 2015 the Royal Academy Award. Wylie has work in private and public collections including Tate Britain, the Arts Council Collection, Jerwood Foundation, Hammer Collection, and York City Art Gallery.
More Information
https://www.willas.com/artist/rose-wylie
2017
waz
April 24, 2017
https://www.waz.de/staedte/gladbeck/neue-galerie-gladbeck-zeigt-spannende-bilder-von-rose-wylie-id210448929.html
May 03, 2017. Römhild, Gerhard
2016
W Magazine – Young at Art: Painter Rose Wylie Is Emerging as a Star at Age 83
November 29, 2016. Eckardt, Stephanie
Independent
January 24, 2016. Wright, Karen
Royal Academy of Arts
January 5, 2016. Maddocks, Fiona
http://de.phaidon.com/agenda/art/articles/2016/december/12/rose-wylie-why-i-paint
December 12, 2016.
2015
Telegraph – Rose Wylie: 'I don't like arty'
June 06, 2015. Sooke, Alastair
2014
Städtische Galerie Wolfsburg: Rose Wylie
Fall 2014.
The Guardian – Fresh and cutting edge' Rose Wylie, 80, wins John Moores painting prize
September 19, 2014. Brown, Mark
http://www.telegraph.co.uk/culture/art/11110865/Aero-Girl-has-new-brush-with-fame-as-artist-to-the-stars-60-years-on.html
September 20, 2014. Sawer, Patrick
2012
The Guardian – Rose Wylie: 'My mother thought women should have an escape route'
February 13, 2012. Saner, Emine
2011
http://www.union-gallery.com/content.php?page_id=600
August 2011. Kitamura, Katie
Videos:
2014
http://www.youtube.com/watch?v=zjZrGeslEik
December 03, 2014. Wobstories
http://www.youtube.com/watch?v=nXmdguHJWEo
August 08, 2014. ICA
http://vimeo.com/102841258
August 07, 2014. studio international
http://www.youtube.com/watch?v=qO0ewXNlPYY
April 02, 2014. frieze
2013
TateShots: Rose Wylie – Studio Visit
September 12, 2013. Tate
Exhibitions
2017/18 – Rose Wylie at Serpentine Sackler Gallery London
2017 – Yellow Sax at Brand New Gallery Mailand
2016 – Horse, Bird, Cat at David Zwirner London
2015 – Rose Wylie at Douglas Hyde Gallery Dublin
2014 – Pink Girls, Yellow curls, Städtische Galerie Wolfsburg
2013 – Big Boys Sit in the Front, Jerwood Gallery Hastings
2013 – BP Spotlight exhibition at Tate Britain
2013 – Woof-Woof, Haugar Museum, Tønsberg
2012 – After Daphne at Rosenwald-Wolf Philadelphia
2011 – Picture on the Wall at Michael Janssen Berlin
Works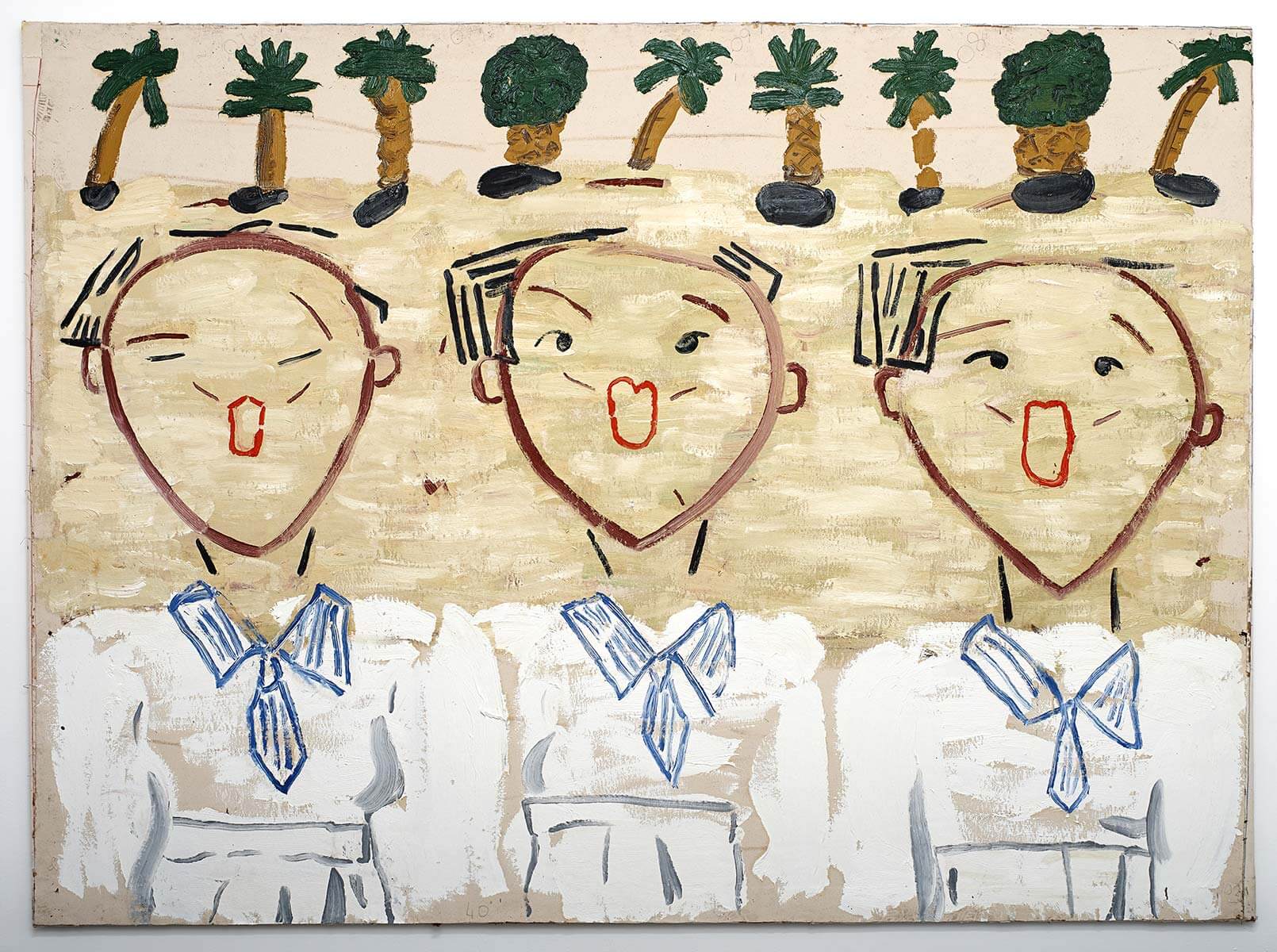 Korean Children Singing, 2013, oil on Canvas, 182 x 250 cm
Black Strap (Red Fly), 2014, oil on canvas, 184 x 332 cm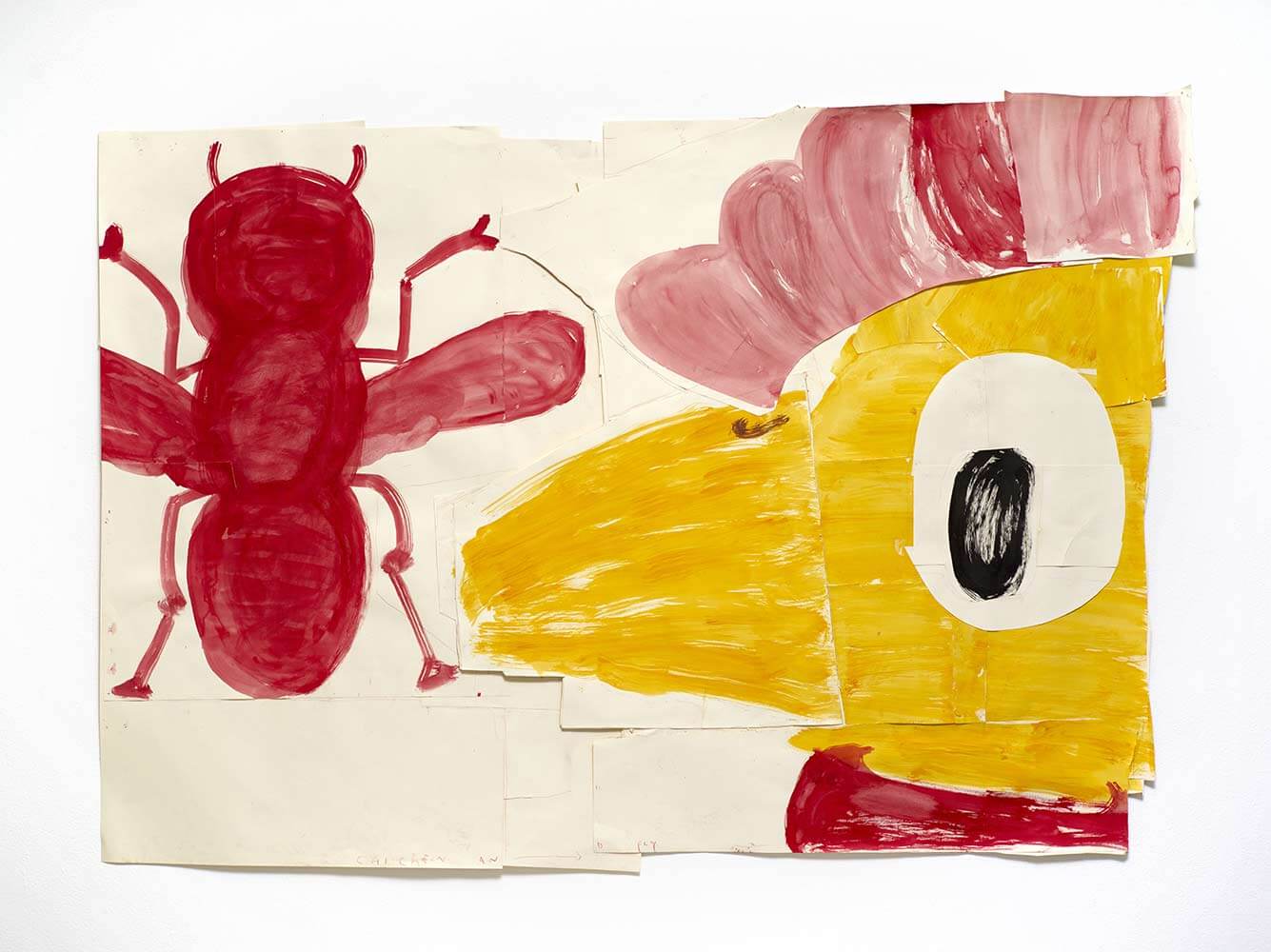 Chicken and Red Fly, watercolor, framed 143 x 172 cm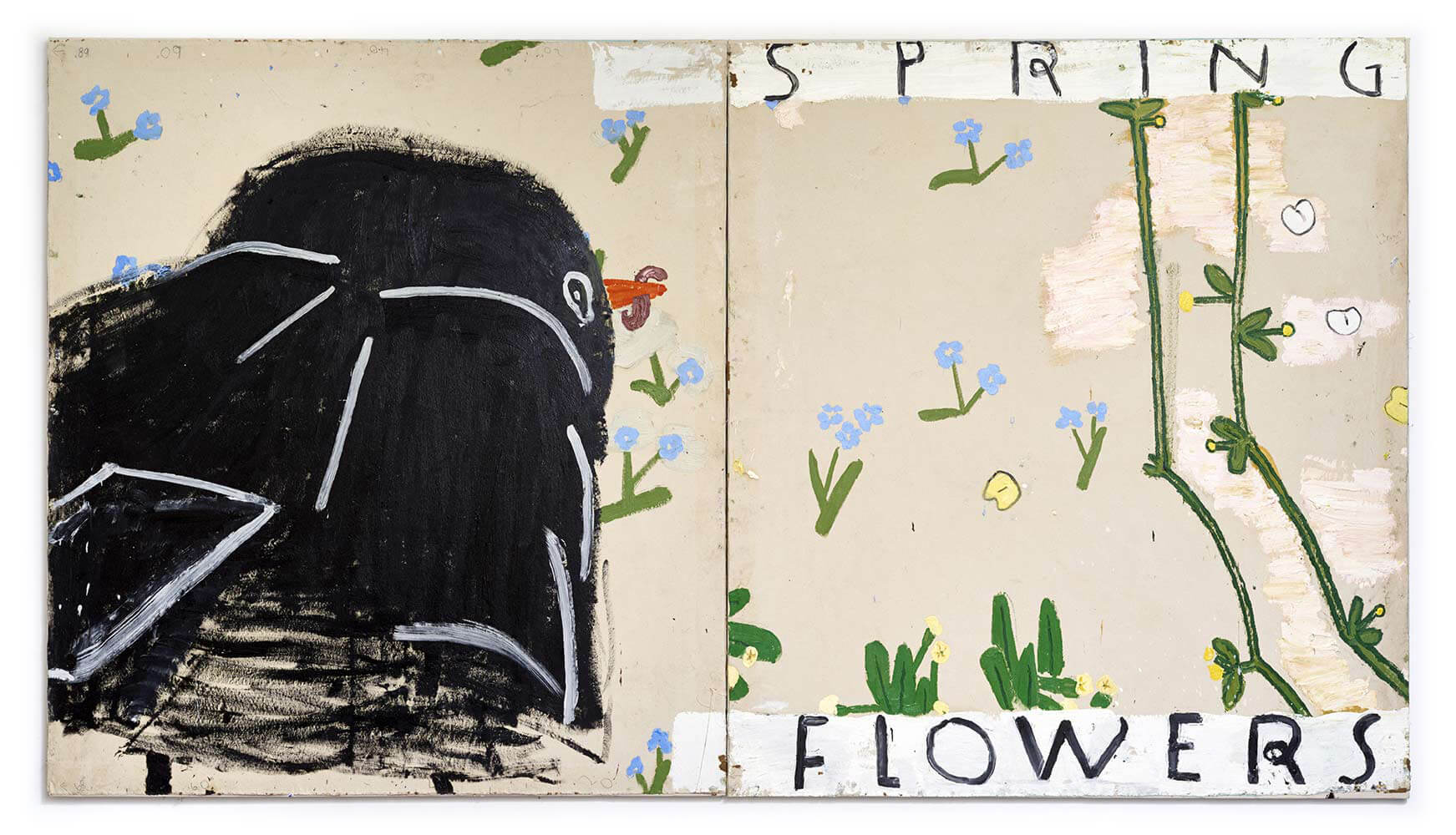 Blackbird and Spring Flowers, 2015, oil on canvas, 183 x 328 cm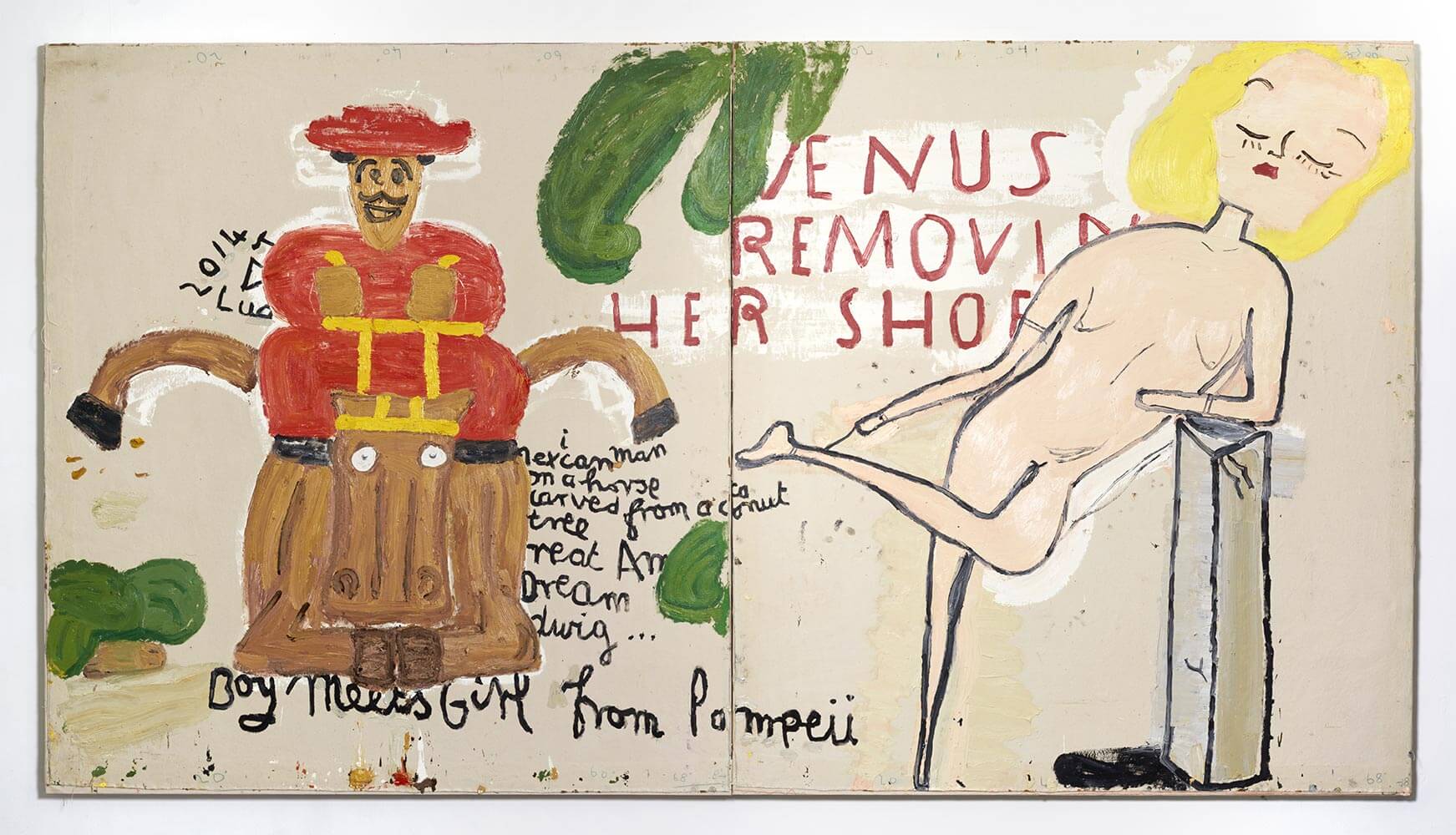 Boy Meets Girl from Pompeii, 2015, oil on canvas, 184 x 335 cm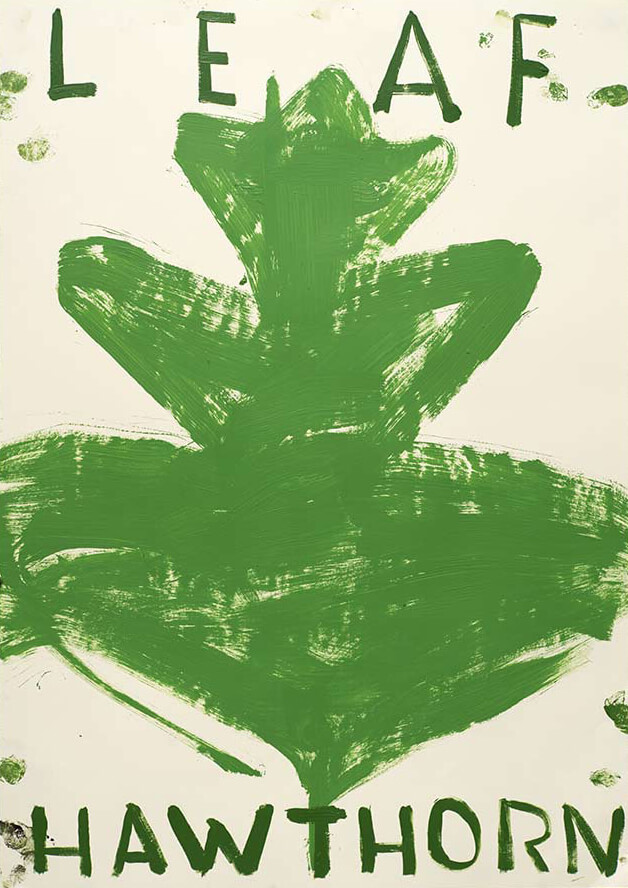 Hawthorn Leaf, 2015, oil on paper, 60 x 84 cm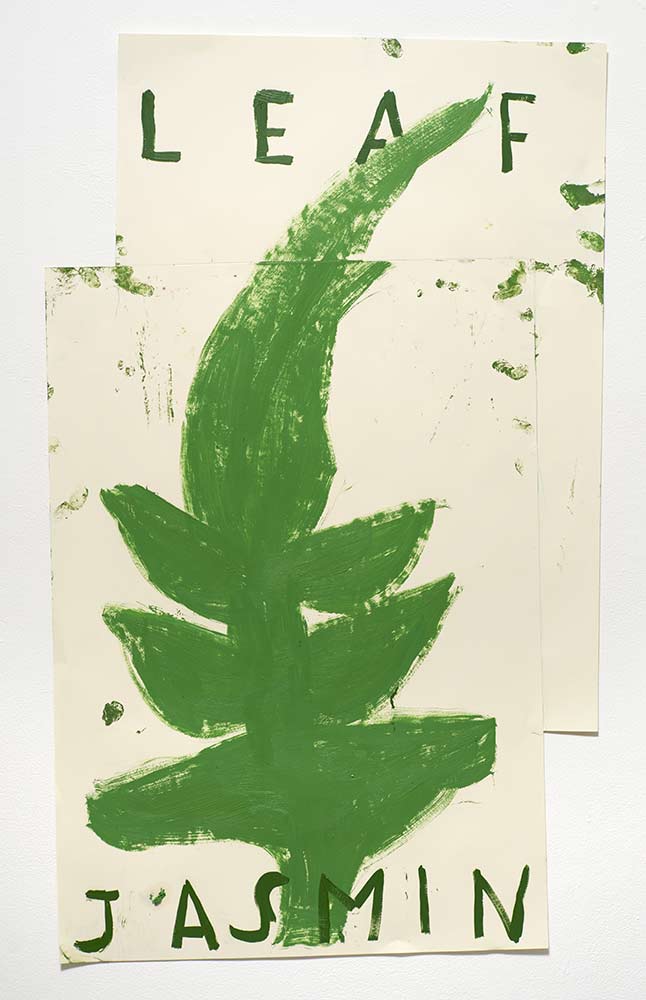 Jasmin Leaf, 2015, oil on paper, 112 x 68 cm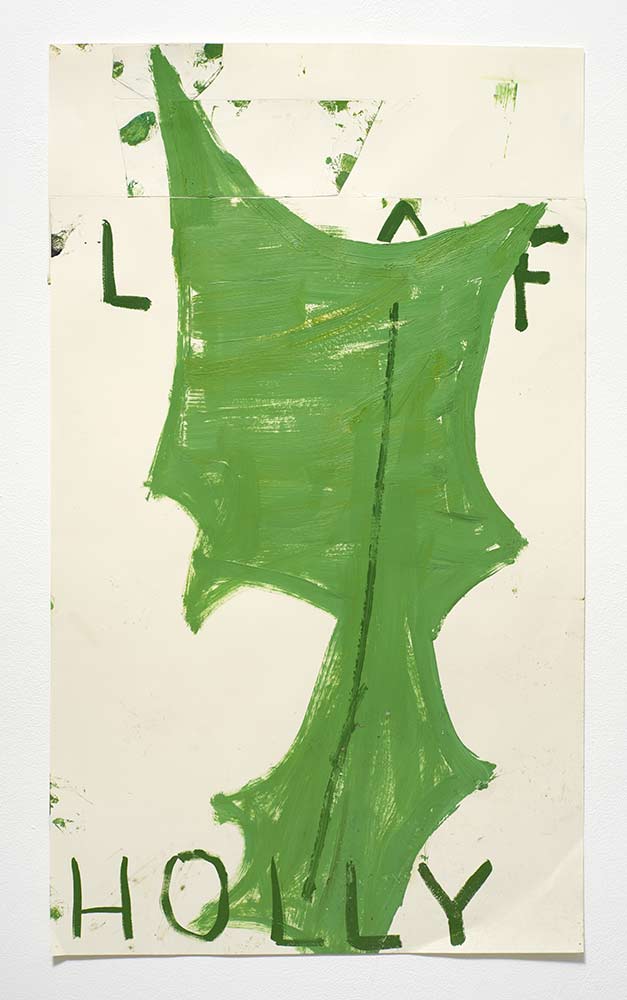 Holly Leaf, 2015, oil on paper, collage, 101 x 60 cm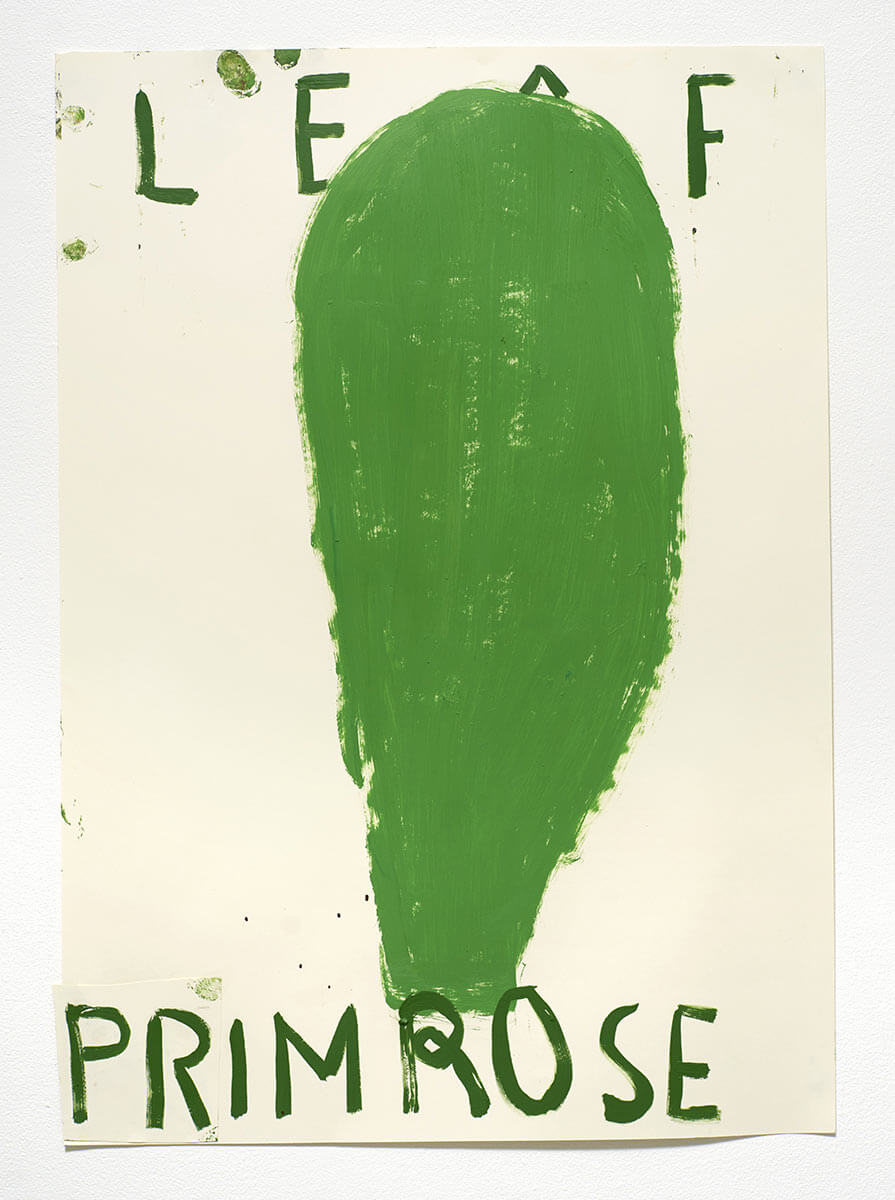 Primrose Leaf, 2015, oil on paper, 60 x 84 cm
Hazelnut Leaf, 2015, oil on paper, 60 x 84 cm