Myriam Mechita
Le Bâtiment des dérives ou the stone of light
GNYP Gallery has the great pleasure of presenting 'Le Bâtiment des dérives ou the stone of light', the first exhibition in Berlin by the French artist Myriam Mechita. The exhibition combines various ideas and concepts that the artist has been working with over the last years, placing them next to each other to enable comparisons and dialogues.
The title of the exhibition refers to a large construction, either a building or a boat, floating or solidly grounded, which forms the starting point for all kinds of uncontrollable excursions. The artist's own experience of drifting away from the main path of thinking and doing brought her to the realization that it is these unplanned journeys that matter the most. A comparison with the ideas of the Situationist International that used the concept of dérive as a central point in their program is relevant for understanding Mechita's approach. However, experimental behavior in the psycho-geography is less important to her than finding freedom in an urban society where claim to rational control of our lives has lost its validity.
Mechita started the series of red drawings during her residency in New York four years ago. The overwhelming rhythm of the city, the feeling of estrangement, made her want to put the decision of what to do in someone else's hands. She went to a clairvoyant who shared visions of Mechita's past and future life with her. The artist recorded these sessions and they have formed the basis of the red drawings project, which is still ongoing. The liberating idea of setting yourself free by letting someone else decide what to do helped the artist express her urge for real experience.
Her black-and-white drawings often feature her son or her friends in various situations of their lives, as well as our unpredictable world where joy goes hand in hand with disappointment, where people fail and win, where emotions touch you. Mechita makes a conscious effort not to become an "art engineer", i.e. someone who makes calculated constructions of objects that can function in the territory of art. Instead the artist time and again emphasizes the connection between hand, soul, and mind. However traditional and old fashioned it may sound, her artworks are made in a creative process using her own body, its power and limitations.
Mechita is interested in aspects of the world that are at threat in our fast-moving, all-absorbing modernity. Her ethnological curiosity, which in the past made her participate in all kinds of rituals around the world, is reflected in her recent series of prints that evolve around death masks. There the vague image implies a shamanistic, almost magic reality behind the visible. The same applies to books presented in the exhibition: they are not meant to be read in the traditional sense but as precious objects they promise to give access to knowledge of a different kind. Finally, there are porcelain sculptures that Mechita produced at the renowned French Manufacture nationale de Sévres. Beautiful and tempting heads, hands, and fragmented bodies tell their story of hope and despair, passions and cruelty, love and hate. As rationality doesn't seem to have helped humanity so much, Mechita has no problem choosing other approaches, such as fate, chance, and metaphysics.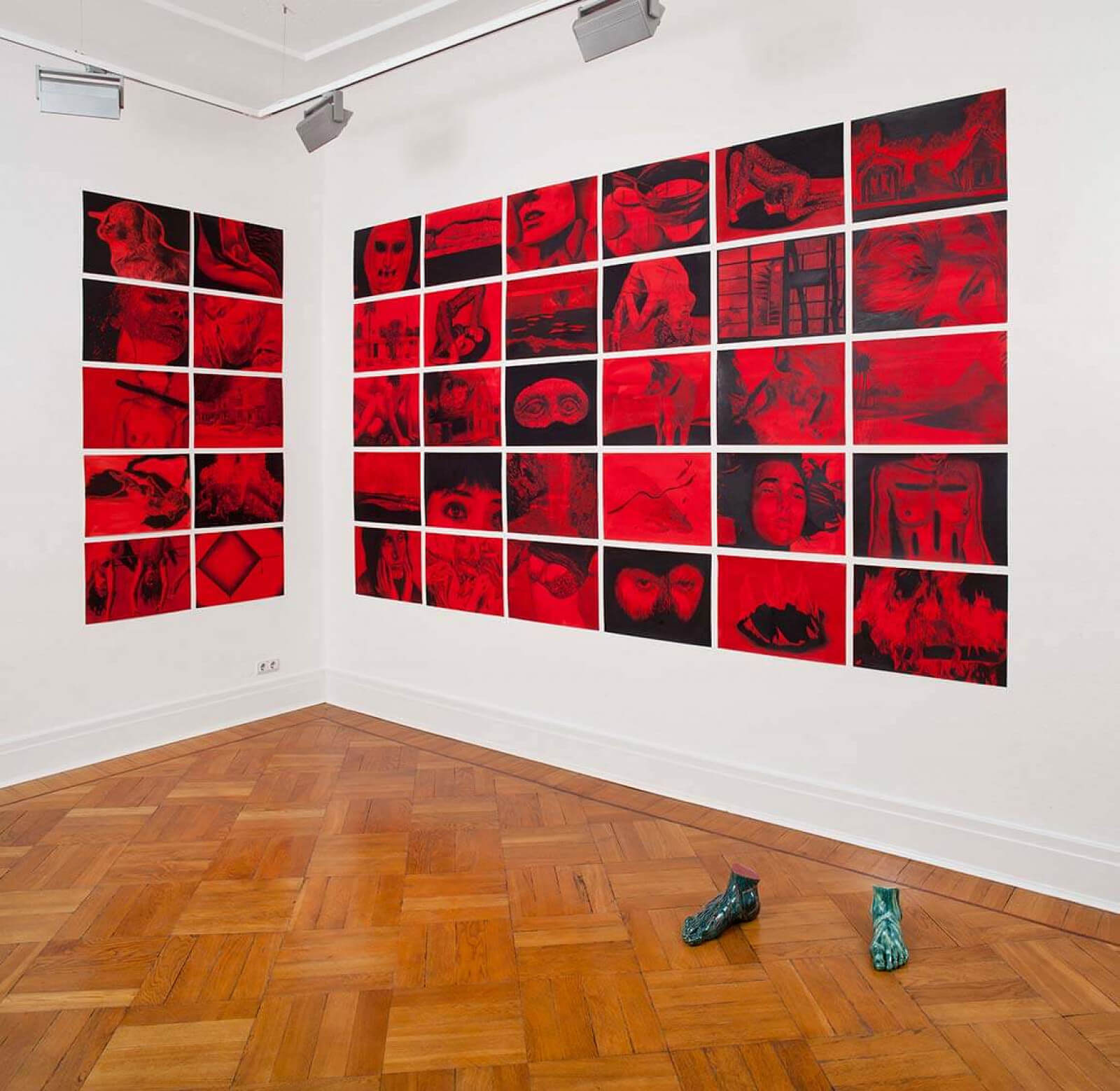 Myriam Mechita employs an expanded array of mediums, from drawing, ceramic, and bronze, to inform her poetics. One of her main aesthetically worries is the representation of the abject, which she does through intense use of color and gestures.
Born in Strasbourg, France, in 1974, Mechita has studied at the Ecole des Arts Décoratifs de Strasbourg. She is currently based in Paris and Berlin and she is also a professor at L'école supérieure d'arts et médias de Caen/Cherbourg.