Susumu Kamijo & Koichi Sato
Nobunaga 02
Now that the pandemic seems to be finally exiting the stage, there is nothing like a joint show, a healthy agglomeration, and in this case, one comprised of two very distinct and yet similar artists accompanied by a multitude of people and sentiments. Although contact is still performed with a little unease, the spectrum of affections both Koichi Sato and Susumu Kamijo mobilize leaves no one indifferent. A little touching and bumping are expected to take place.
Although both artists share a similar background—the two of them having been born in Japan in the middle of the 1970s and now based in New York City—their art, especially in this exhibition, couldn't inspire greater distance. Nevertheless, opposites sometimes do attract each other, as the saying goes, and they do so by creating unforeseeable connections that end up enlightening each of them in retrospect. The extremes connect, and that is what happens when we consider Sato's musical energy, the strident smiles, and untamed vitality, with the eerie specters, the animal enigma, the always open questions Kamijo's paintings instigate.
A figurative language that deals with the ideal and the atemporal animates Koichi Sato's paintings. Here, popular motives, people, and activities vibrate apparently endlessly: the stark contrast between colors, the clash among areas of fragmented detail and vast gestures insinuate a sustained rhythm. The size of the characters' hands indicate the movement, the intentions triggered by the loose and almost improvised brush strokes. A celebration of life. We are caught up in the frenzy of joy and bliss of his paintings, always delivered in major key.
Susumu Kamijo, on the other hand, maneuvers amidst somewhat shady impressions, something that gains much more importance if we consider where the artist is coming from. Those who already saw Kamijo's work in his previous shows at GNYP Gallery will remember his distinctive trademark: the poodle. Using a procedure that we could call a saturation by repetition, that is, an indefatigable fixture in the figure of a dog, the artist deals with different technical ideas, emotional landscapes, and thematic conceptions, continually expanding what we are given to feel via an old topic of art history. The dog, unleashed, takes us on an expressive journey. Now, Kamijo abandons the distinct outline of the pet altogether, delivering ambiguous specters that, nonetheless, still dialogue with his old tenets.
The straightforward, uplifting and cheerful paintings by Sato benefit from these renditions of strange beings, and vice versa. Kamijo's creatures, with their lines and silences, vibrate a little more intensely by neighboring those other canvases full of music. Not only a small sampling of two artists born out of the same generation and situated in the same metropole, this concentrated but potent exhibition is also a celebration of the variegated matter that informs life. The celebrations, the mysteries, colors, and dark corners. All the better if we can experience them together.
João Gabriel Rizek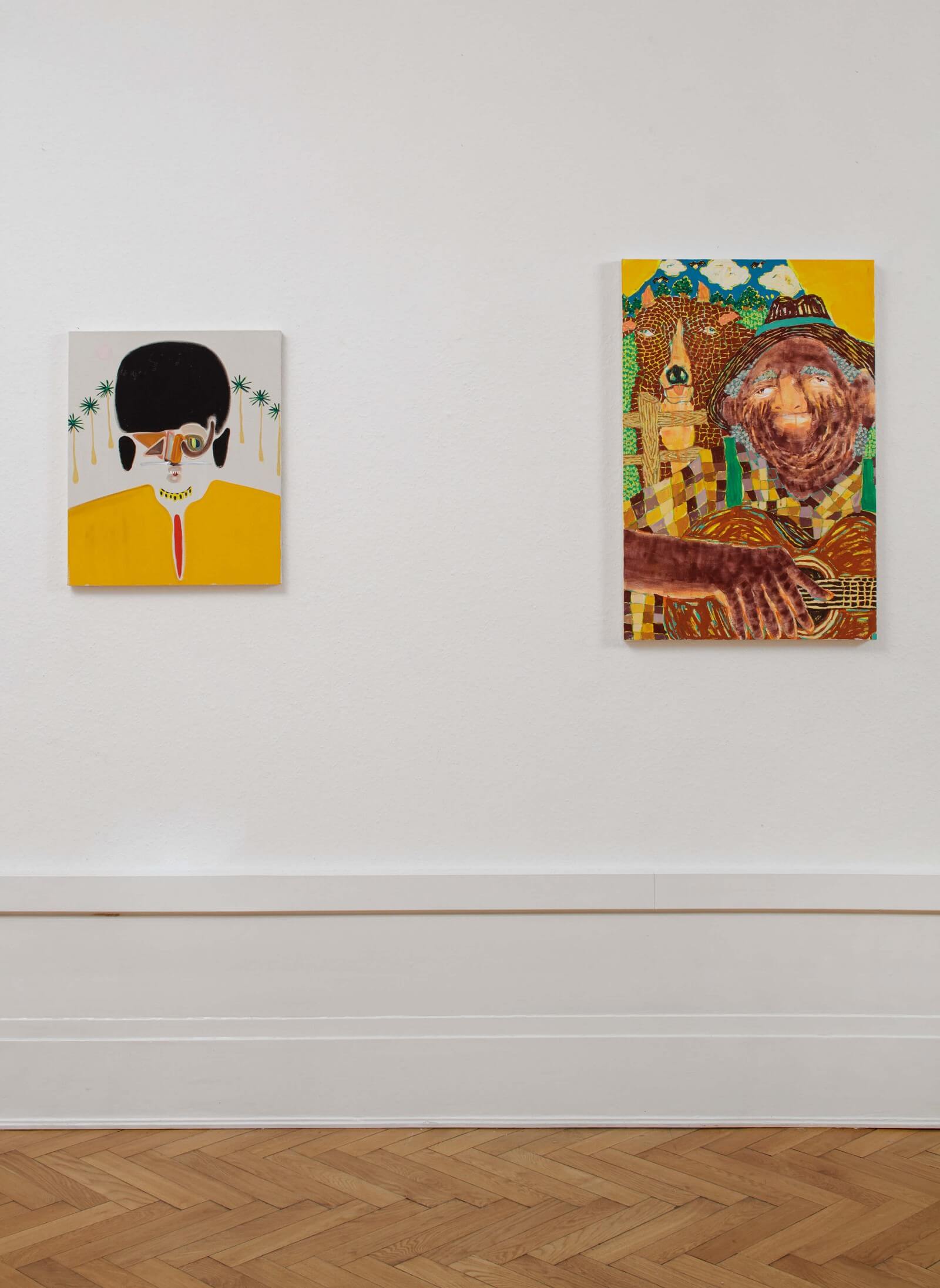 Since 2014, Susumu Kamijo has been working on a series of colorful drawing depicting dogs, something that has become a sort of the artist's trademark. His continuous meditation on the forms of the dogs, though, renders many variations. No work is the same. Sometimes, the level of detail he attributes to, say, an ear, or a dog's hair, touches on abstraction — the dog emerging as a puppy or as a menacing and sensuous creature. Living currently in Brooklyn, Susumu Kamijo is originally from Nagano, Japan. Born in 1975, he moved to the United States when he was 16. There, he completed his BFA in Painting and Drawing at the University of Oregon in 2000, followed by an MFA in Painting and Drawing at the University of Washington in 2002.
Koichi Sato is a self-taught New York City based artist originally born in Tokyo in 1974. Having grown up influenced by the abundance of images in television and sports, his paintings generally focus on the playful reinvention of these images in bold stylization, pattern, and color. He is fascinated with old American magazines, often using photos from these as primary influences for his intriguing and downright funny paintings. His portraits are works of positivity and happiness that shine a fresh and friendly perspective on images of people that one may be accustomed to overlooking. This sense of happiness made apparent in the comically stylized faces (often painted purposely square and disproportionate, with an intense grin) and exaggerated bodies is echoed in Sato's celebratory use of color and pattern. The patterns in the background of Sato's group portraits help to flatten the portraits further, crowding the group to the foreground. The flatness echoes the flatness evoked in a photograph on a magazine page, his main source material.