Zachary Armstrong
& Rose Wylie
Boy meets Girl
At a glance, the grande dame of the English painting, Rose Wylie, and the young American artist Zachary Armstrong seem to use a similar visual language of reduced and simple forms that remind one of children's drawings. Boy meets girl – just like the title of one of Wylie's painting in the exhibition – despite an ocean of time and space that lies between them.
The two artists have, however, very different reasons for using this allegedly primitive visual approach. Rose Wylie is attracted to the unawareness of cultural conventions that children have when looking at an image. Similar to the CoBrA artists of the 1940s, Wylie sees children as free from the burden of culture, which means that they don't bother with distinctions of beautiful and ugly in the same way as adults do. Wylie perceives the world in a similar way, since for her there is no hierarchy in information sources and elements of culture, nor a hierarchy between beings and objects. Consequently, celebrity culture and its heroines such as Nicole Kidman, are for her a part of today's mainstream culture and not its byproduct. Wylie often completes her life-size paintings with pictorial, awkward-looking texts that add all kinds of comments to the image. When using popular and familiar media images, such as singing children, sexy blonds, and red carpets, Wylie wants to make you focus on the essence of what painting is about according to her: to move you by what you see. For this, you don't need information but sensibility, a childlike direct response to an image, because a painting is all about sensual experience.
Zachary Armstrong has literally taken children's sketches as a basis for his work. In his recent painting series, he has tirelessly and continuously repeated two drawings originating from his own childhood: a self-portrait made by the artist as a 4-year-old child and a portrait drawn by his younger brother. The common idea of children's drawings as the origin of human creation and the starting point of culture seems to be an obvious reference, but Armstrong's continuous repetition and gradual transformation of the same motifs defy the notion of spontaneity. Instead, these drawings function as a pretext for something else: a fundamental inquiry into the making of a work. Taking the two images as a matrix, Armstrong has been experimenting with materiality and painting processes, exploring the value of colors, lines, or the haptic qualities of wax layers. The works have become personal records of hours of labor, rituals of creativity, and a striving for the perfect painting.
As with every encounter between a boy and a girl there is both logic and chance at play. Whatever the dialogue between Wylie and Armstrong brings about, it somehow touches the essential qualities related to art, no matter where and when: skills and sensitivity.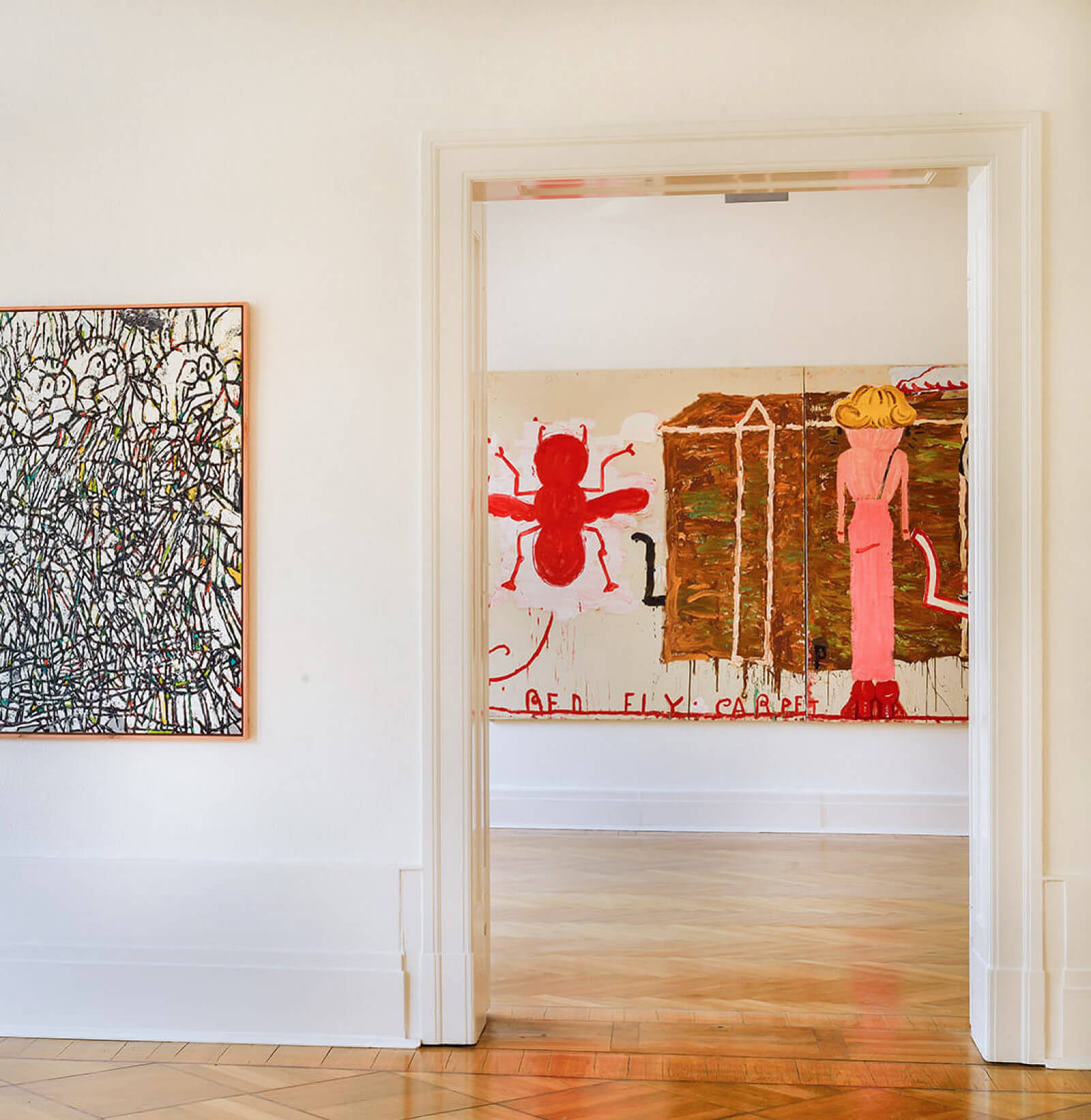 The point of departure of Zachary Armstrong's art comes from his own private sphere: his childhood, his family, the American culture, natural history books he encounters. Armstrong's works seem to contain a coded message about the person who created them, something that becomes evident when a motif is repeated and extended throughout several paintings and series, like a mannerism or a stain that's part of us. However, while making secret references to his personal universe, his works also evoke some larger context, such as the idea of the American countryside, folk art, and the tradition of American and European modernism, reaching a bigger set of references that points to the universal. Armstrong's paintings combine geometrical structures and expressive figuration. One of the most particular aspects of Armstrong's works is the use of encaustic technique, rendering them sometimes sculptural. Zachary Armstrong was born in 1984 and he currently works and lives in Dayton, Ohio.
The British artist Rose Wylie was born in 1934 and she studied at the Royal College of Art. Wylie represented Great Britain in Women To Watch, National Museum of Women in the Arts, Washington D.C., in 2010. Her first retrospective exhibition was held at the Jerwood Gallery, Hastings, in 2012, and was followed by her BP Spotlight exhibition at Tate Britain in 2013, which led to museum shows in Philadelphia, Norway, Germany, Denmark and Ireland, among others. In 2011 she was given the Paul Hamlyn Award, in 2014 she won the John Moores Painting Prize, and in 2015 the Royal Academy Award. Wylie's work is part of private as well as public collections including Tate Britain, The Arts Council Collection, Jerwood Foundation, Hammer Collection and York City Art Gallery.